jeanthejust's page
contact me at jeanthejust@dslextreme.com
This site is under construction. In fact, it just started construction & I don't know what I am doing, yet.
When I'm finished there will be a poetry section, essays, a manuscript in progress,
and eventually a blog. The purpose of the page is for me to have a lot of fun in my fifties...
and to delight and entertain a small selected group of others.
Please scroll down & amuse yourself.
<![if !vml]>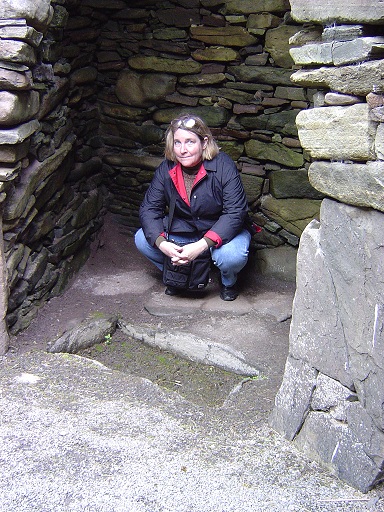 <![endif]>
Jeanthejust lurking in Neolithic site on Shetland

Hello, world!
Poetry Section: Here are links to some of my poems.
| | |
| --- | --- |
| Salt written when Peg moved in with us. Revised a few years later after the dementia worsened. She is gone to the nursing home now. | Moving written when Andrew & his friends were twelve and were "moving on" from Elementary to Middle School. |
| Hand written when my father died. | Later written when Andrew was in 8th grade. |
| Pantheon written for Paul Cummins' retirement. Paul was the Head of Crossroads School and one of its founders. | Up written when Andrew was graduating from high school. |
| Room written before I got sober, when I was very sad and didn't know what was lacking. | Snakey written about a large stuffed snake, that I believe was given to us in the early 1960s. |
Valentine's Day, 1994 Peter and I have a tradition of giving each other Valentine's Day poems. We don't do it every
year, (Peter is more conscientious about it than I am, a fact which will not surprise any of our friends.) The poems are not
always good (Peter's are better, which is annoying). Back in 1994, towards the end of one of my mid-life crises, I wrote Peter this
poem. jeantopeter94 He read it, and immediately started to giggle! I was annoyed. It was a serious poem, & I thought it was pretty good.
Feeling miffed, I opened and read his poem to me. petertojean94 Then I started to giggle too. We survived that midlife
crisis (and a few more—I wasn't quite through being a lunatic) and we are still fairly happily married. March 4, 2008 will be our 36th wedding anniversary.
Terre Haute. Here is a tribute to Terre Haute Indiana, and to the house on 25th Street. I wrote it right after Ira died,
so he is featured.
Terre Haute, © Jean M. Campbell (written 1996, edited 2005)
How to do Life. Here is a book I'm in the process of writing. I have the first few sections done & would love comments.
Life: The User's Manual
Jean M. Campbell © 2006
This section will grow, as I write it.
Volume I. Raising children with respect.
* Infants and Babies
1.1 Infants
1.2 Babies
* Toddlers
1.3 Action
1.4 Talking
1.5 The "terrible twos" Twos
* Little Kids
1.6 Not a Baby notababy
1.7 Reading
1.8 Tricky issues
1.9 Introducing School
1.10 Social Life